Join us for Griffin's Hispanic Heritage Celebration! 3rd - 5th grade: October 12th Prek/HS - 2nd grade: October 19th See you there! 🪅 💃 🌺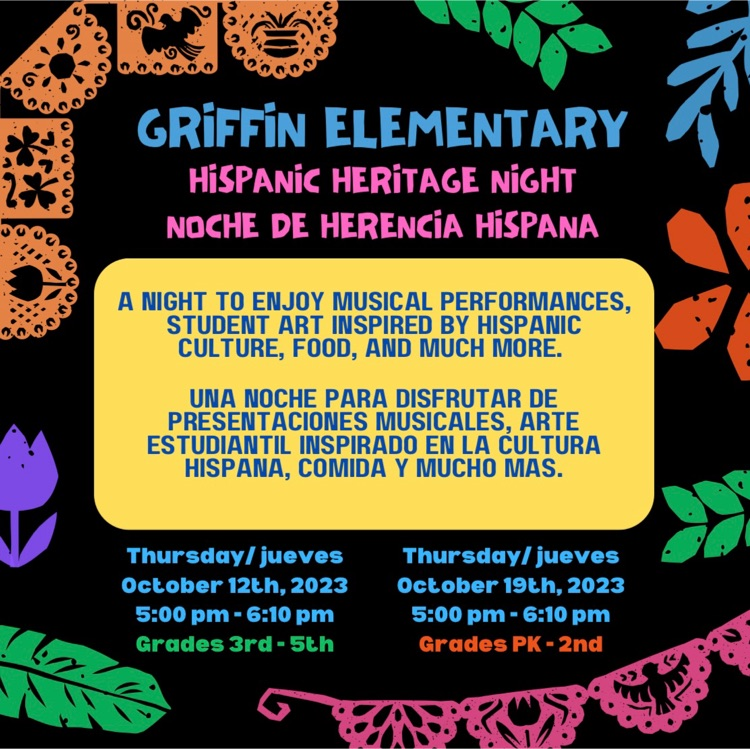 Students in Ms. Woods' class celebrate with Griff the Punctual Bulldog! They had a 100% attendance rate last week! 💯 🐾 😊
Only 3 more days for Griffin's Open House. Thursday September 28th at 5:00 pm! 🏫 🐾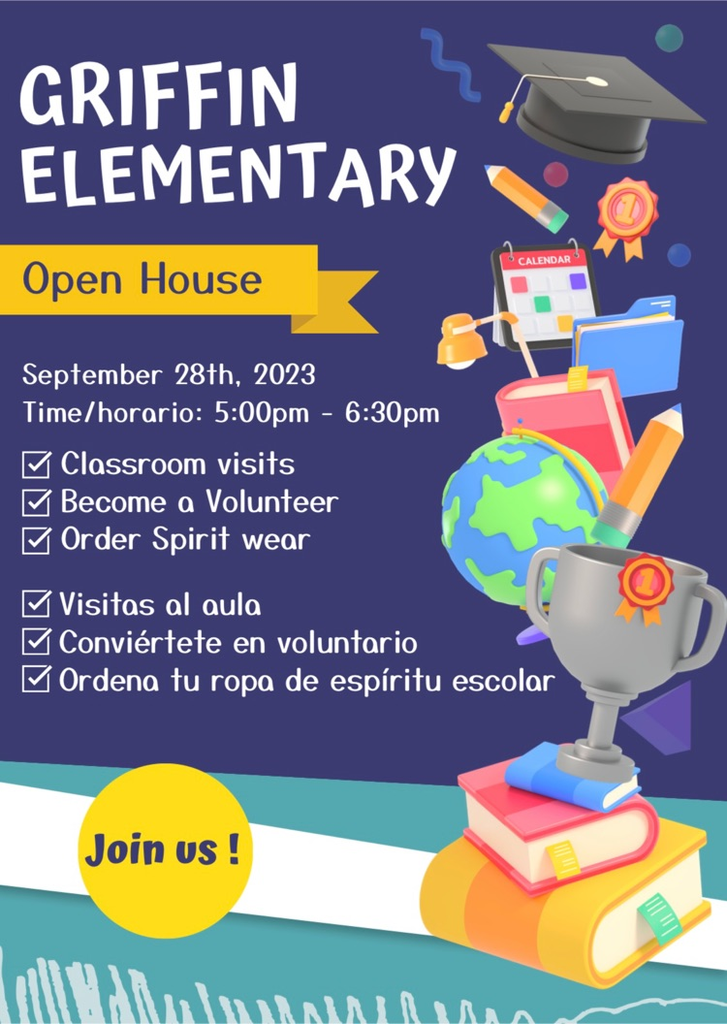 Can't wait to see you at Griffin's Open House Thursday September 28th at 5:00 pm! 🏫 🐾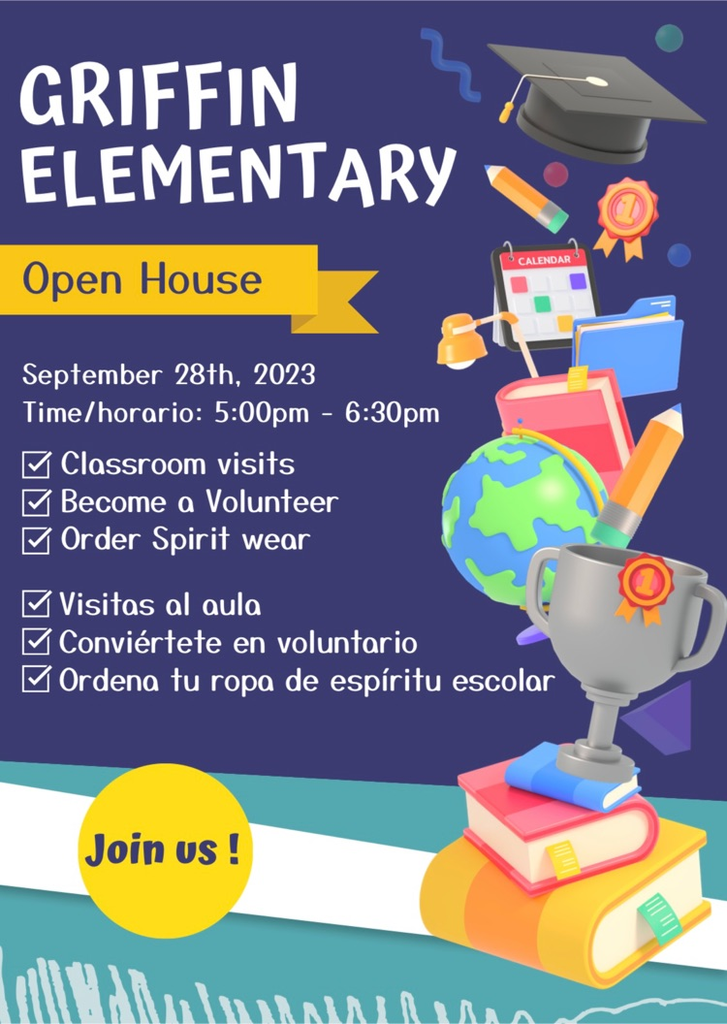 Start with "Hello!" Week! September 18-22,2023 Monday 18 - Wear Hawaiian attire and say "aloha"! Tuesday 19 - Encourage everyone! Wear a t-shirt with an encouraging message. Wednesday 20- Learn names of other Bulldogs and wear a name tag! Thursday 21- Look for ways to help others! Friday 22 - Make it your job to be kind. Wear Griffin spirit shirt 🐾🌸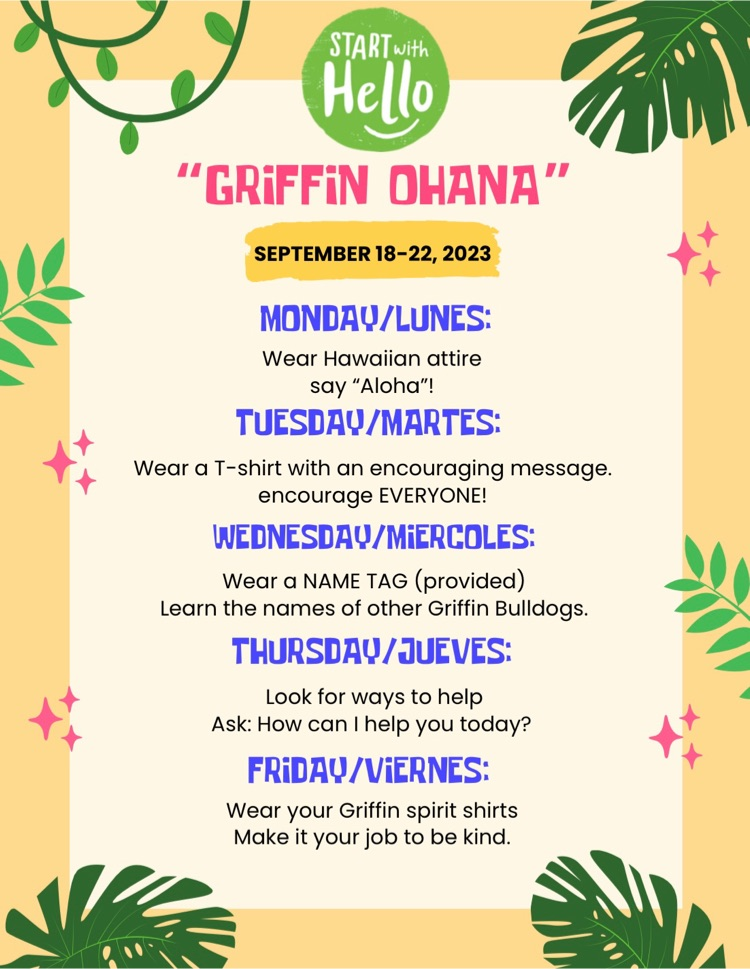 Have a great Labor Day weekend, Griffin families! No school on Monday. We will see you again on Tuesday! 🇺🇸 💪

1,396 cans! 🥫 WOW! Great way to support our community, Griffin Bulldogs! 🐾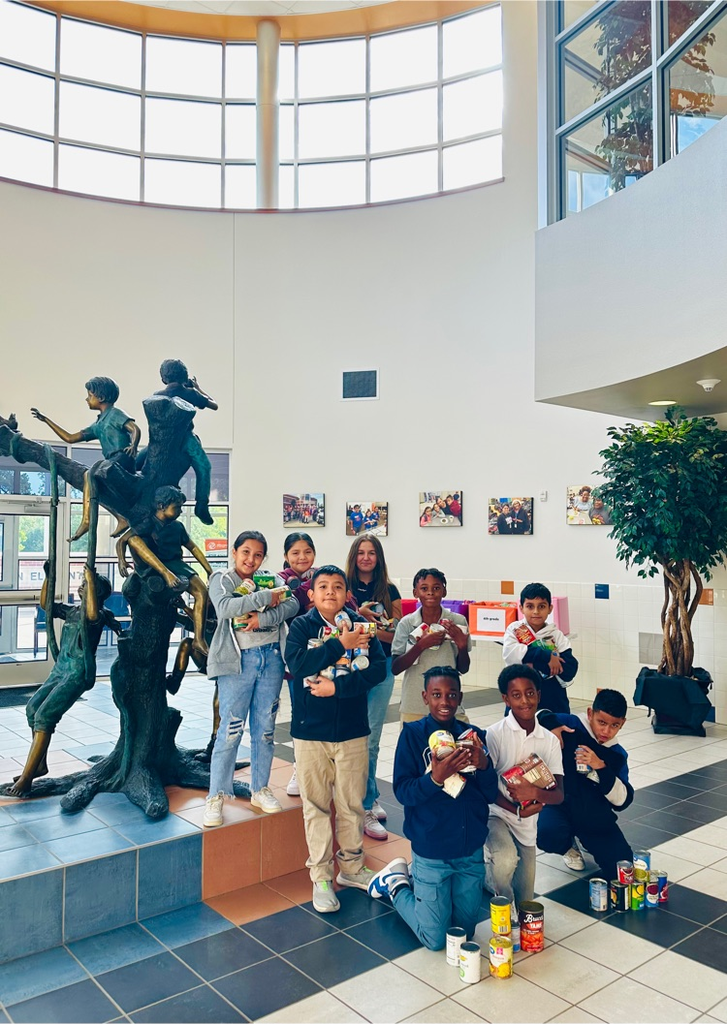 📢 Calling all girls ages 4 to 6th grade! Scan QR code to pre register for Tyler High's Mini Cheer Clinic. 🦁📣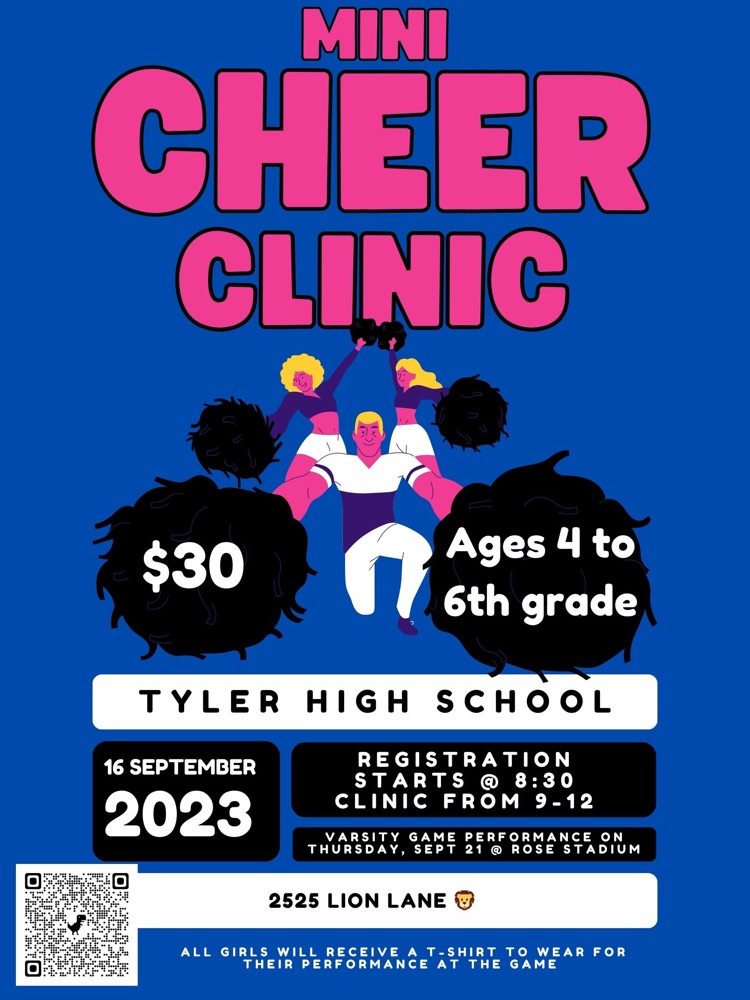 Join us next week Friday September 8th for our Grandfriend's Day. 🍩🐾
We are excited to present our First Round of Library Programming with our "Fall Into Reading" literacy campaign. Tyler High Football players will be on campus to read to our students, September 1, 2023 from 9:30-10:30. 🐾🏈📚 Estamos emocionados de presentar nuestra Primera Ronda de Programación Bibliotecaria con nuestra Campaña de alfabetización "Fall Into Reading". Los jugadores de Tyler High Football estarán disponibles para leerles a nuestros estudiantes el 1 de septiembre de 2023 de 9:30 a 10:30. 🐾🏈📚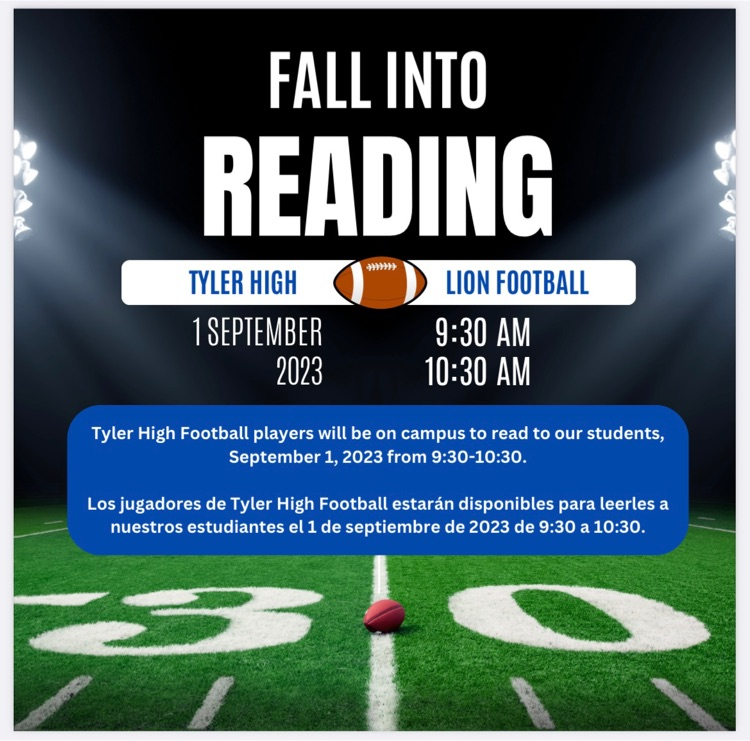 SCHEDULE CHANGE FOR FRIDAY NIGHT ⏰🚨🏈 Get tickets:
https://tylerisd.hometownticketing.com/embed/all
🎟️🔗 Due to expected high temperatures, the Tyler High vs Tyler Legacy varsity football game on Friday, September 1 will be pushed back from 7:00 p.m. to a 7:30 p.m. kickoff.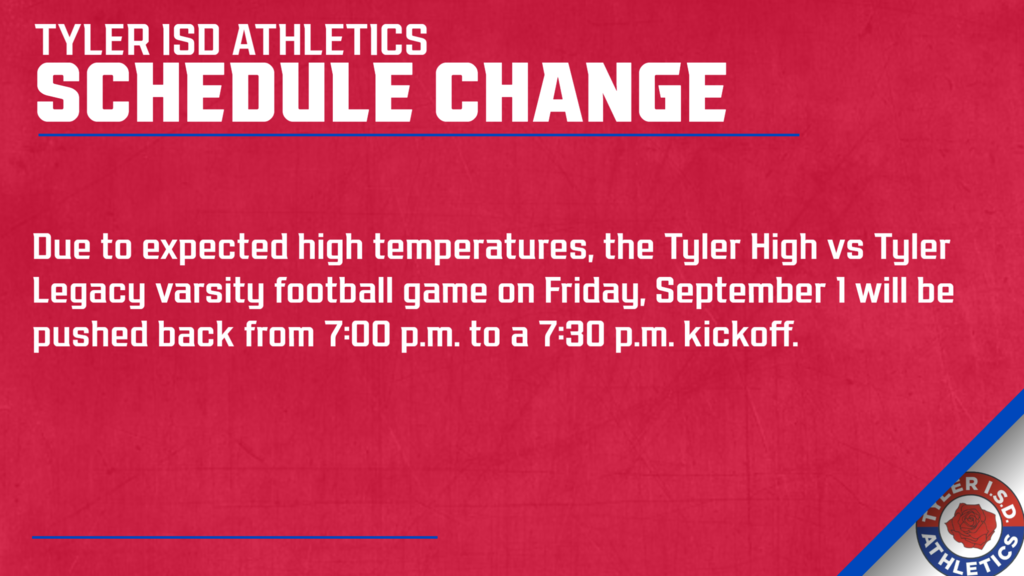 Hey Griffin families 🐾 Let's do something kind for our community. During the week of Aug 28th - Sep 1st you may send canned goods to Griffin Elementary for the Annual Tyler High vs Tyler Legacy pantry raid. 🥫🦁 The grade level with the most cans wins a pizza party. 🐾🍕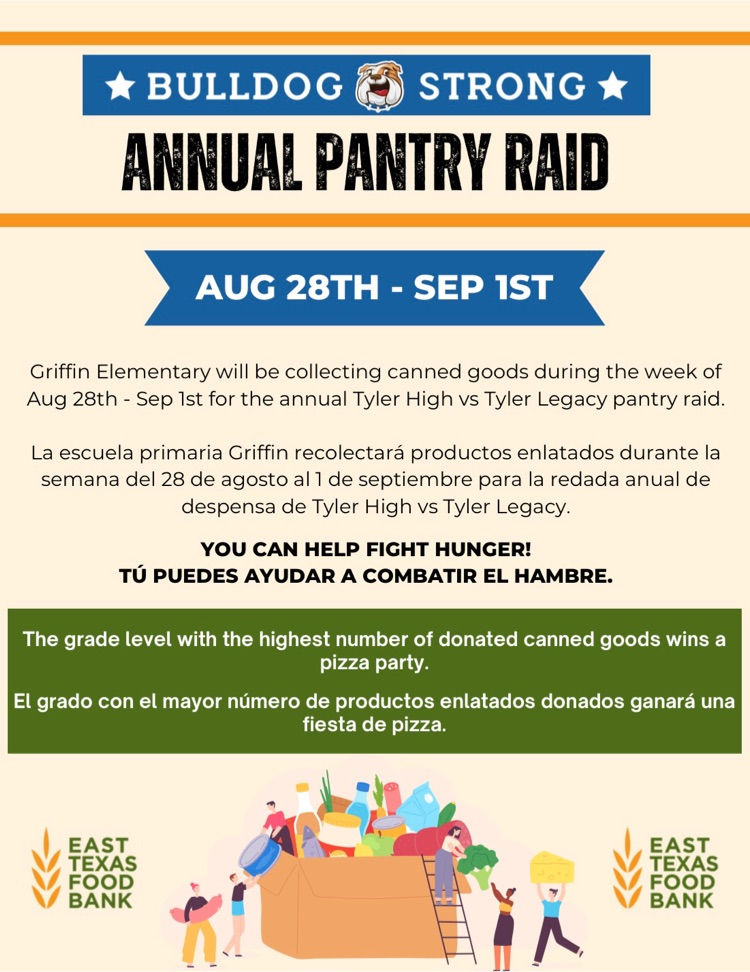 🚨Attention, Griffin Kinder Families! ✍️ Sign up for our Kinder Parent Literacy Workshop! ⏰ Tuesday, August 29. Español 8:15 - 9:00 AM. English 5:00 - 6:00 PM. Griffin Library. 📂 Registration form sent home today in your child's folder. Please return by 8/24.

😊 Greetings, parents of walker students! 🏃‍♀️ 🏃‍♂️ 🏃 Our staff provides courtesy supervised support for our students who WALK home. Due to safety concerns we will no longer allow for parents to pick up walker students on 26th Street as this area has high traffic due to the car pick up line. We ask that parents pick their child up on North Border Ave or Liberty Arms. (See Image for Reference). Thank you for ensuring the safety of ALL of our Bulldogs! 🚙 👮‍♂️ 😊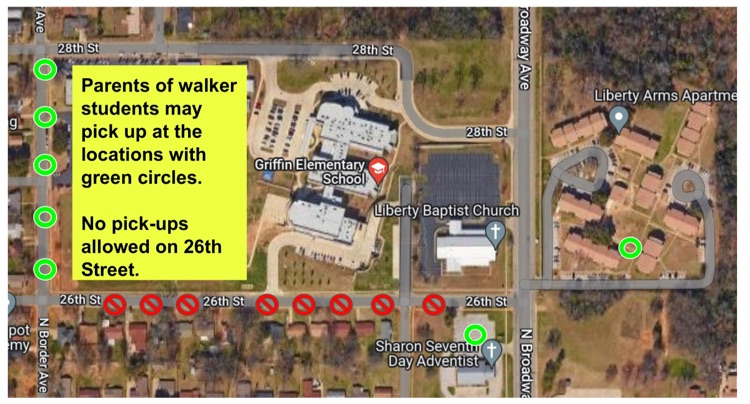 We're excited to welcome back our Bulldogs this week! Click on the link for August's Bulldog Bark Parent Newsletter! 🐾 ☀️ 😎
https://www.smore.com/f4rum

Bus transportation requests must be completed by 6:00 p.m. on Wednesday, August 9 for your student(s) to be able to ride the bus the first day/week of school. ⚠️🚌⏳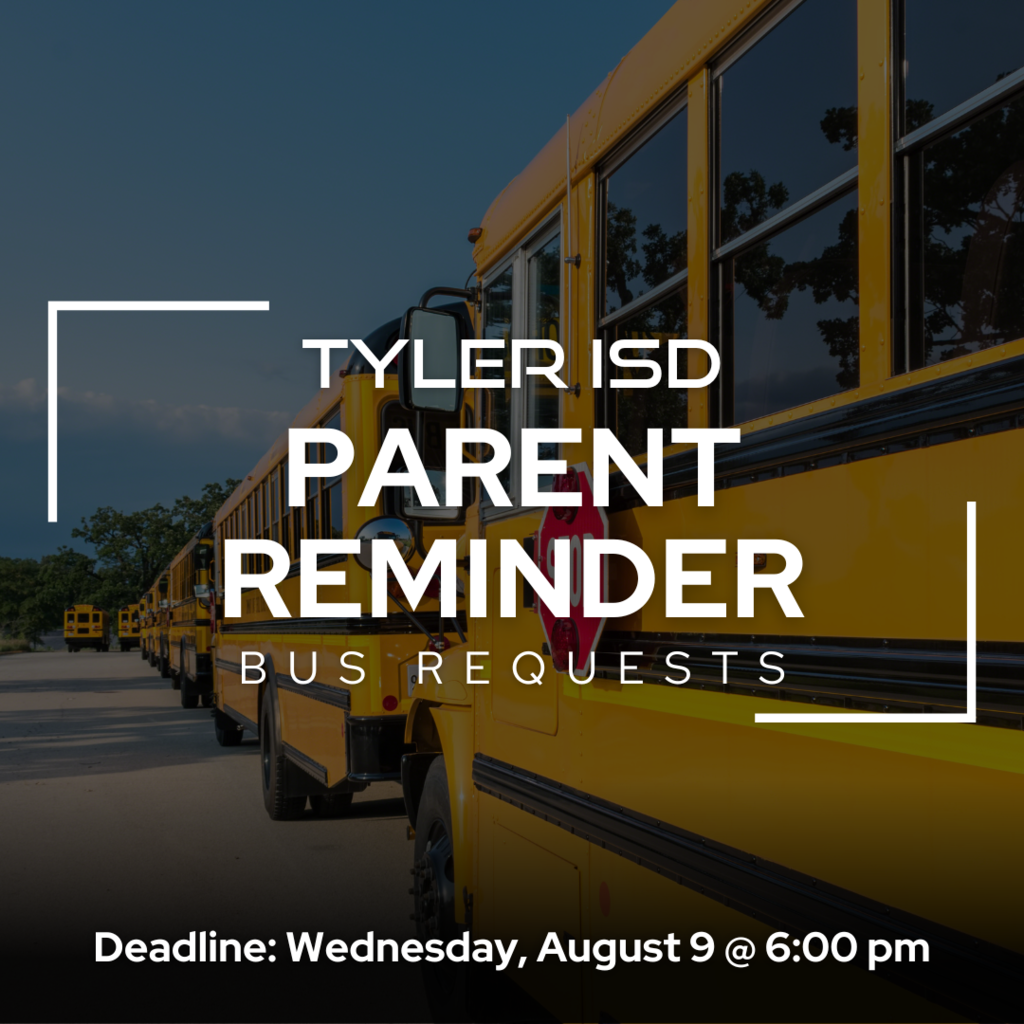 Greetings Griffin Families! We can't wait to see our Bulldogs back on campus on August 16! Our supply list is posted on our website and you can access our uniform policy for the 2023-2024 school year below.
https://drive.google.com/file/d/1nXhKD-1pGgL_b2jsZb1EGdSqs7oGTLbh/view?usp=sharing
Saludos, familias de Griffin! Estamos emocionados en recibir a nuestros Bulldogs el 16 de agosto! Nuestra lista de útiles está en nuestro sitio web y nuestra poliza de uniforme se puede encontrar en el enlaze de arriba.

The first day of school will be here before you know it! 🏫 Make sure you are ready by registering now at tylerisd.org/enroll! 🔗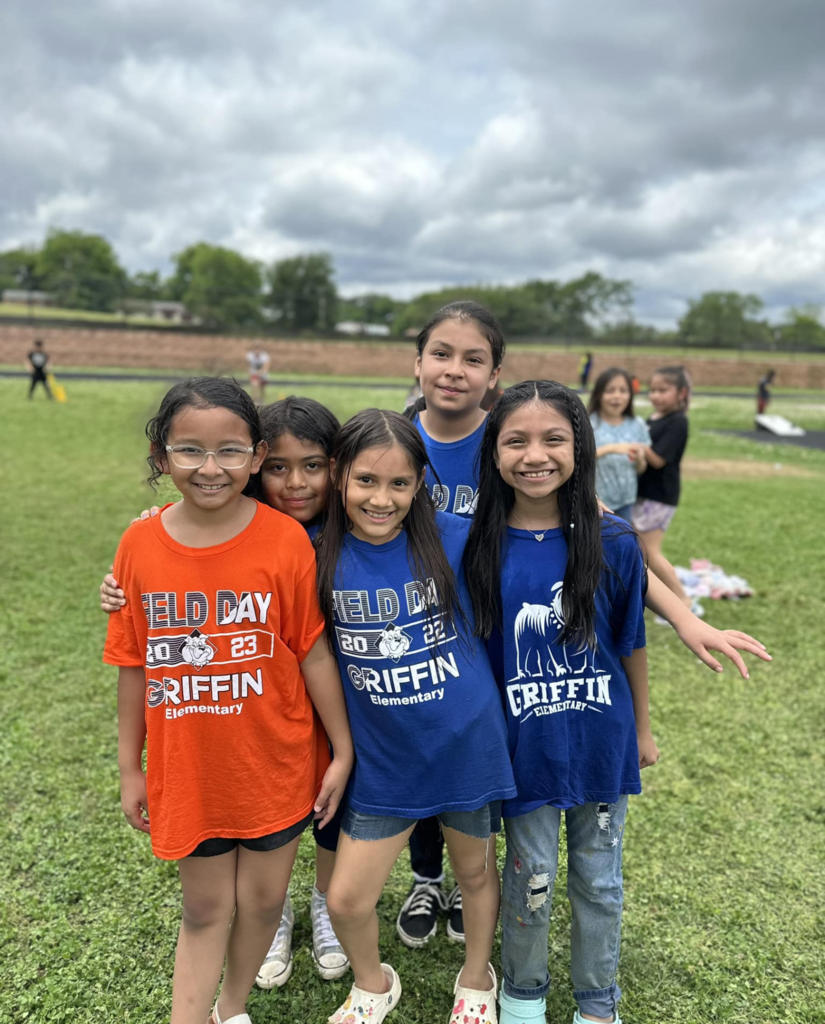 Thank you to our families who ensured our Bulldogs attended and our staff who provided a positive testing environment! We had great attendance and our students made great effort. 😊 🐾

Come join us on Thursday for our Black History Celebration! Visit with your child's teacher to discuss their progress witness their creative expression through research, art, music, and dance! Food vendors will be present as well. February 23, 5:30 - 7:00 PM, Griffin Elementary.