Griffin Elementary School staff and families came together for a joyful celebration of Hispanic Heritage Thursday night, October 21. Approximately 600 people filled the hallways and auditorium areas to experience activities inspired by different Hispanic influences, such as Spain, Mexico, Puerto Rico, El Salvador, and Guatemala.
"The event was a huge success," Dean of Students Wesley Sanchez said. "We are proud of our Bulldogs and their teachers for all their hard work and dedication toward making this an unforgettable night."
Students dressed in festive clothing performed on a highly decorated stage with brightly colored banners and balloons. The song selection included "Mi cuerpo," "De colores," "El Floron," and "Uno, Dos, Tres."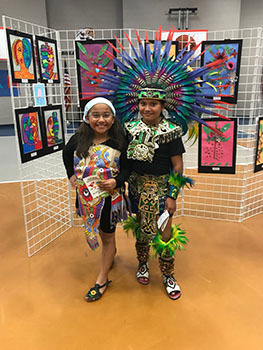 Families also enjoyed tasting Latin-American cuisine from area food trucks.
Children posed for pictures in front of their artwork displayed for guests to admire. The young artists found inspiration for their colorful creations by Pablo Picasso Oil pastel portraits, Mexican sun and cactus watercolor, and Frida Kahlo jungle collages.
The broader Tyler ISD family also contributed to the celebration with a performance from the Caldwell Arts Academy Mariachi group and student volunteers from Tyler High School.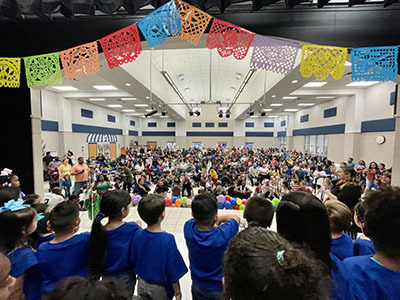 "I would like to thank the Griffin staff and students who poured in the time and passion for making this event happen," Sanchez said with gratitude. "We are also thankful to our families and sister schools who contributed to the celebration. It was a memorable night that was a testament to our families and community."
For more information, contact Jennifer Hines at Jennifer.Hines@TylerISD.org.