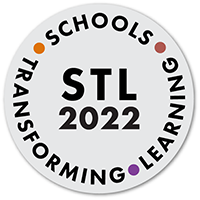 Caldwell Arts Academy is one of only four elite campuses named "2022 Schools Transforming Learning" by the N2 Learning Principals' Institute (PI). Caldwell is recognized for making exceptional strides on its journey to provide innovative learning opportunities for all students.
"This is an exceptional honor," Caldwell Principal Bobby Markle said. "To be included with larger districts and selected from more than 500 campuses shows that Caldwell Arts Academy staff and students are creating a learning environment that is making an impact. Our community's commitment to this impact allows for a unique approach to East Texas' academics and the arts. We look forward to continuing this journey with our students, families, and staff."
Nominations for the honor were open to campuses led by principals who have participated in the Principals' Institute over the past 11 years. The N2 Learning Principals' Institute is a statewide professional learning series designed to challenge thinking and help campus leaders develop and sustain transformative learning environments.
For more information, contact Jennifer Hines at Jennifer.Hines@TylerISD.org.