In the goal of connecting and engaging students in meaningful conversations around the world, Boulter Middle School 7th Grade English Department and Sacred Heart School Ateneo de Cebu Junior High School English Department (Philippines) partnered and organized a virtual cultural colloquy with the theme, "Building Communicative Competence for a Hope-Filled Future." Boulter Vikings shared and learned together with the Ateneo Hearters about global and multicultural issues and experiences.
The virtual colloquy was opened by Mrs. Edgermi Gingoyon from the SHS-AdC English Department and Ms. Maggi Mae Vestal from the Boulter Middle School English Department.
Our student participants enthusiastically took part in this global connection partnership. They were able to participate in engaging conversations about common food, American and Philippine Slang, Korean expressions, Hispanic and American influences, forms of respect, family events, feasts and celebrations, and global icons. Boulter student A'Zion Gentry stated, "I enjoyed talking and hearing from the Korean and Filipino students. I love the language they speak. I feel grateful that I learned a lot especially the part where I got to experience trying to speak their language and expressions."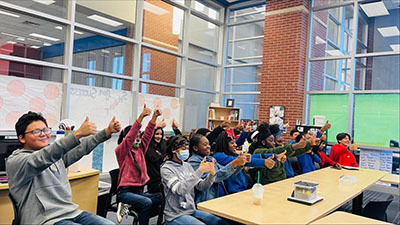 The Boulter Vikings had plenty to share and showed how multiculturally rich we are as a community. They also learned a lot from the Ateneo Hearters and loved hearing from them. Indeed, it was a rich experience. "It was great and fun meeting Filipino and Korean students. I found out that we have a lot in common, like our music and food. I found out that Filipinos and Hispanics are both under Spanish influence," said Boulter student Nikolas Pinal.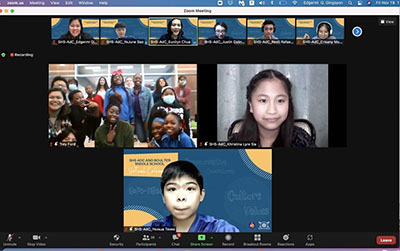 "It was really inspiring for me because we got to engage with people from across the world. The best part for me was when they also shared their slang words," stated Boulter student Javeion Jones.
The event was culminated by takeaways from students from both schools and closing speeches were delivered by Mrs. Johannes Lagunzad (SHS-AdC Assistant Principal for Academics) and Ms. Yolanda Taylor-Wade (BMS English Department Chair) respectively.