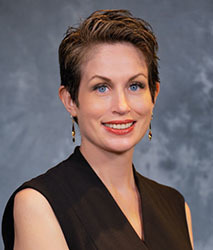 Tyler Legacy High School Principal Dr. Kristin Walls was a guest speaker at The University of Texas at Tyler's 3rd Annual Career Success Conference on Thursday, November 4. The Career Success Conference allows business and industry leaders to share their experiences and wisdom with today's students. By design, the conference is to help students build the personal and professional capacities necessary for career success.
"The theme of this year's conference was Connect for a Better Tomorrow," Executive Director of Career Success Dr. Rosemary Cooper said. "Our theme is most fitting, as we are all eager to connect again and look forward to a brighter future after being faced with so many challenges this past year."
The conference was comprised of three interactive lecture sessions. Current undergraduate and graduate students, representing more than 80-degree programs, had the opportunity to engage with industry leaders, and learn how to build and develop core traits of career success. Principal Walls' presentation was titled Sisu – Determination to Succeed.
"I felt it was important for students to understand they all have the potential for leadership inside themselves," Dr. Walls said. "In life, leaders will face challenges; however, their character will need to have the drive or measure of integrity that surpasses the hardship and sees things through to the end."
Principal Walls began her career in education in 2007. She used her experience as a Doctor of Chiropractic to become a career and technical education health science teacher in Garland ISD. In 2009, Dr. Walls joined the Robert E. Lee High School staff in Tyler ISD. She served as CTE health science department lead and technical dual credit instructor at Lee before becoming the health science department head at the Career and Technology Center.
Moving into administrative roles at Lee in 2017, Dr. Walls managed campus operations, redesigned processes to increase achievement ratings, and restructured the Advanced Placement (AP) program. As the leader of the campus science programs, the school received Texas Education Agency science academic distinctions for two consecutive years.
For more information, contact Jennifer Hines at Jennifer.Hines@TylerISD.org.