Tyler High School Army JROTC program has been awarded the Honor Unit with Distinction for the 2021-2022 school year.
"This award is only given to the top 10% of programs nationwide. Our cadets have attained that status for the first time in Tyler history," Sergeant Major, Senior Army JROTC Instructor Mark S. Whitford said.
The JROTC Cadets evaluation took place on November 1, by an inspection team led by the U.S. Army Cadet Command, 5th Brigade in the following areas:
Battalion Staff Continuous Improvement Brief

Service-Learning Briefing

Cadet Portfolios and Interviews

Unit Report
An Honor Unit with Distinction (HUD) has demonstrated exceptional performance in all areas of program operation. The JROTC program must score between 90-100% on the annual Unit Report and 95-100% on the JROTC Program of Accreditation (JPA) to receive this award. The Tyler High School Army JROTC cadets attained a score of 98.5% on the overall JPA evaluation.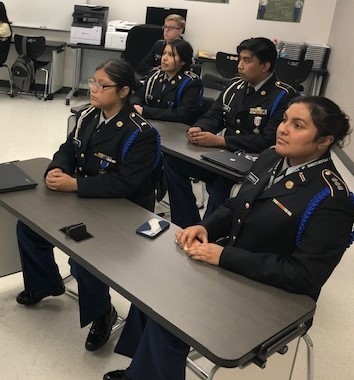 "The unprecedented COVID environment we faced this year made the preparation and execution of the inspection extremely challenging for our cadets," SGM Whitford said. "They did a fantastic job led by our leadership team consisting of C/LTC Hunter Collins and C/MAJ Jeffrey Tovar."
"We are super proud of Sergeant Major Whitford and the Tyler High School JROTC," Tyler High School Principal Claude Lane said. "Congratulations for all their hard work."