Today, Moore MST Magnet School held a special ceremony to dedicate its new, state-of-the-art gymnasium as the Al Harris Gymnasium. Tyler ISD administrators joined with members of Mr. Harris' family to celebrate the dedication.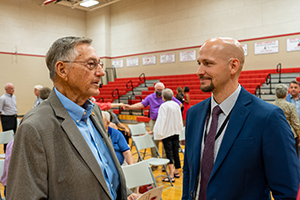 Al Harris began his Tyler ISD career as a teacher and coach at Moore Jr. High in 1970. During his time there, Coach Harris also served as head coach and campus athletic director. He even coached Heisman Trophy winner Earl Campbell.
In 1980, after a successful career that included numerous Moore championships, Mr. Harris became the principal, where he served until retirement in 1997. Under his leadership, Moore Middle School's faculty, staff, and students were recognized for having the most improved tests scores in Texas in the 1989-1990 school year. In 1992, First Lady Barbara Bush visited Moore to recognize the school for academic excellence and a drug-free/disciplined campus. Later that year, the campus was again recognized when a delegation of students and teachers attended a White House ceremony hosted by President Bush. In 1993, Moore Middle School received the Governor's Excellence Award as a Top Ten School in Texas.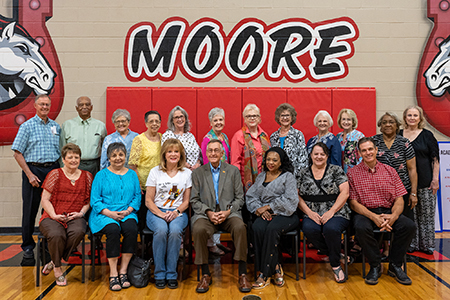 Since his retirement from Tyler ISD, Mr. Harris and his wife Pat reside on their cattle ranch near Hawkins, TX. He is involved in community agencies and serves as a Board member for the USDA Soil and Water Conservation District, Wood County Appraisal District, Upper Sabine Valley Solid Waste Management District, and Sabine-Neches Resource Conservation and Development area Council. The Harrises are also members of Green Acres Baptist Church, where he serves as a deacon.