Bryson Donnell and Jamarion Miller, running backs for the Tyler Legacy High School football team, are passionate student-athletes on and off the field with big plans for the future. The duo committed this week to play football at Division 1 schools in the Big 12 conference. Bryson Donnell has committed to Texas Tech University and Jamarion Miller to The University of Texas at Austin.
I'm blessed to announce that I've decided to start my new journey at the University of Texas at Austin. I want to give a big thanks to my parents, coaches, and the staff at UT for all the hardwork and dedication they've invested into this. #Hookem 🧡🤘🏽 pic.twitter.com/oWvLUn1Ork
— Jamarion Miller (@JamarionMiller1) June 28, 2021
BLESSED🙏🏽#WRECKEM #COMMITTED #AGTG #TexasTech 🔴⚫️ pic.twitter.com/Xjmb8NZ6Wi
— 𝐵𝓇𝓎𝓈𝑜𝓃 𝒟𝑜𝓃𝓃𝑒𝓁𝓁 (@ix_b22) June 22, 2021
These young men both know that academics are just as important as their athletic skill level. When asked how academics played a role in their decision, Donnell said, "I always think as a student-athlete first. Every time I went on a visit, I considered their academics. For me, Texas Tech had both." Miller agreed and added, "Everybody says that football is not going to be there your whole life. So, if something ever happened, The University of Texas at Austin has a good academic program to fall back on."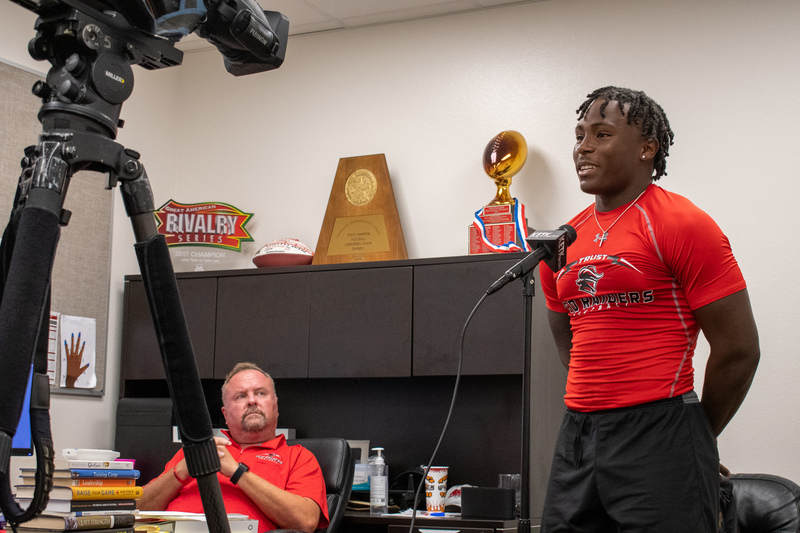 Joe Willis, head coach for the Tyler Legacy Red Raider Football team, joined the coaching staff in February of 2020 knowing he wanted to emphasize athletics and education with his players. Coach Willis says, "At Tyler Legacy Football, we try to provide as much information to players and parents about what both the recruiting process looks like and what is required of our student-athletes to qualify and maintain eligibility." Willis goes on to say that these two young men understand the level of responsibility and accountability that football, and life, demand to be successful.
Recruiting student-athletes to colleges and universities is a convoluted process. Stats, evaluations, campus visits, and academics all play an essential role in the process of committing to a school for athletics. In addition, student-athletes have family and friends providing input on which school to decide on. The coaching staff at Tyler Legacy aims to prepare their student-athletes for all of these steps in the hopes that the student-athletes leaving their program feel secure in their commitment to universities.
Miller and Donnell both had impressive stats coming out of their junior season. With 1,631 rushing yards, 166 carries, and 28 touchdowns (via Maxpreps), Jamarion Miller was sought by several schools, including The University of Alabama, Texas A&M University, Louisiana State University, and the University of Southern California. In the 2020-2021 season, Bryson Donnell had a total of 1,134 rushing yards, 155 carries, and 12 touchdowns (via Maxpreps). He also received numerous offers, including the University of Arkansas, Texas Christian University, Arizona University, and Purdue University. However, both Donnell and Miller decided to stay in Texas.
After having a great talk with @JayValai i am blessed to receive another offer from university of Alabama!!🔴⚪️@CoachJoeWillis @TerranceLovely @TylerLegacyFB @AlabamaFB pic.twitter.com/W0LnhLXWZC
— Jamarion Miller (@JamarionMiller1) March 4, 2021
After having a GREAT talk with @FBCoachJSmith I'm blessed to be re-offered from the University of Arkansas 🔴⚪️!! #AGTG #razorbacks @CoachJoeWillis @TerranceLovely pic.twitter.com/5tjdrVlaxM
— 𝐵𝓇𝓎𝓈𝑜𝓃 𝒟𝑜𝓃𝓃𝑒𝓁𝓁 (@ix_b22) April 27, 2021
Both players are excited about the road to state this year and hope to continue their growth on the field throughout the season. While they are teammates for their senior season, they will be competitors in the Big 12, and both Donnell and Miller are ready to continue working hard to compete against each other and grow as individuals in the coming years.
Donnell, who is moving from one Red Raider program to another, says, "I'm definitely going to be comfortable at Texas Tech. It feels right and is going to be just like I am here at home." Miller, who is thrilled about committing to The University of Texas football program, says, "I'm just trying to make my family proud."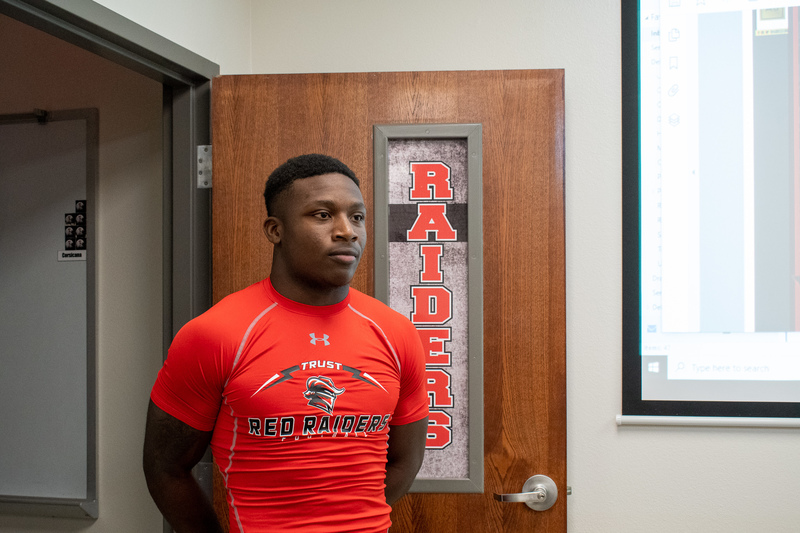 Both Jamarion Miller and Bryson Donnell have made their Tyler Legacy, Tyler ISD, and Tyler community proud, and we cannot wait to support them both in their future endeavors at Texas Tech and Texas! Wreck 'em and Hook 'em!