Tyler High School athlete Kristen Williams signed a letter of intent to play volleyball at the collegiate level. The signing ceremony took place in the theatre before the athlete's family, coaches, and teammates.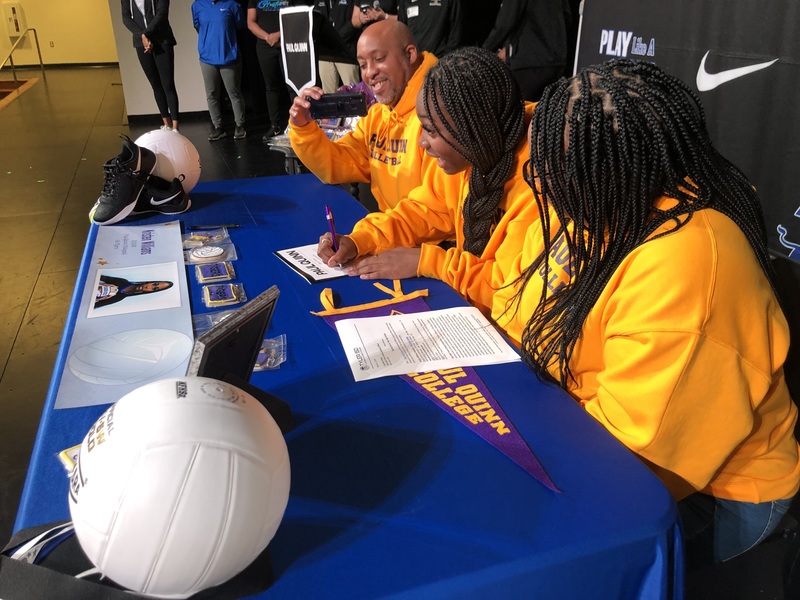 Kristen Williams, Volleyball – Paul Quinn College
Stats: Service Attempts -374, Aces – 37, Attacks – 394, Kills – 44, Receptions – 731, Ball Handling Attempts – 249, Assists – 30, Digs - 627
Awards and Accomplishments
2020: 16-5A Academic All-District
2021: 16-5A Academic All-District, 16-5A First Team All-District, All-East Texas Second Team
2022: 15-5A Academic All-District, 15-5A First Team All-District, THSCA Academic All-State 2nd Team, MVP/Lion Heart Award, Reached Over 1000 digs and serves
Tyler High Coach Claudia Viramontes: "Kristen Williams is the type of athlete coaches hope to have participate in their program. She is reliable, hard-working, respectful, coachable, and intrinsically motivated. Seeing how this young athlete has developed holistically as a person, student, and athlete has been an honor. Kristen was a varsity player for three years and continues to grow as a defensive specialist/libero. When she steps on the court, every touch she makes is intentional. You can count on her being aggressive when taking the ball over. She sets high expectations for herself and others in practice and games. She's impacted her team and teammates; she has taught me much as a coach through her commitment, unselfish demeanor, and persistent character. Thank you, Kristen, for your PRIDE (Perseverance, Respect, Integrity, Dedication, and putting Everyone before yourself)! I am beyond excited to see your continued growth as a student-athlete at the next level! Always cheering for you- Your Tyler High Volleyball Family!"
For more information, contact Jennifer Hines at Jennifer.Hines@TylerISD.org.