Tyler ISD received three awards for distinguished achievement in school communications. The awards were announced at the Texas School Public Relations Association (TSPRA) Star Awards Celebration on February 22 during the association's annual conference in Ft. Worth.
Competing against other districts with student populations ranging from 15,000 to 40,000, Tyler ISD has been recognized for outstanding work in the areas of Communication Plan, Writing, and News Release or Feature Publication.
Chief Communications Officer Jennifer Hines was presented with a gold award for her Tyler ISD Strategic Communications and Community Engagement Plan. It was recognized for its innovative approach to engaging with the community and improving communication with parents, students, staff, and the community.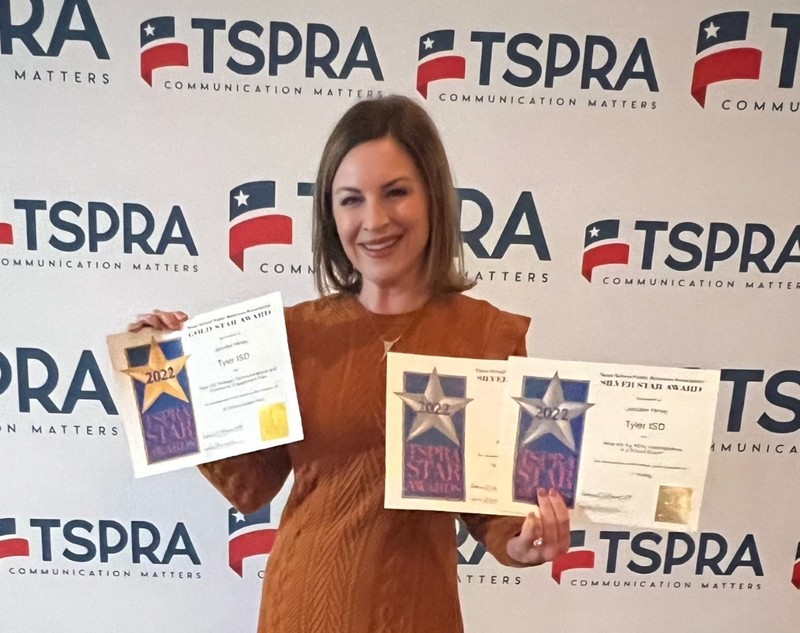 In addition, Tyler ISD won two silver awards, one for writing and one for a published news release or feature. In writing, the publication titled "What are the REAL responsibilities of a school board?" as seen in Tyler Today Magazine, provided readers a glimpse into the obligations of the school board as they work to ensure successful student outcomes for all Tyler ISD students.
The second silver award, "A Promising Future," shared about the partnership between the district and Tyler Junior College that allows students to graduate with a college degree or certificate at the same time as their high school graduation.
"We are honored to receive these awards from TSPRA," Hines said. "These awards are a testament to our team's hard work and dedication to providing strategic, effective, and engaging communications to our students, families, and community."
The TSPRA Annual Star Awards are a prestigious recognition of excellence in school communications and public relations in Texas. Each year, TSPRA recognizes communicators in school districts, education foundations, education associations, and organizations for their outstanding work in print and electronic media.
For more information, contact Jennifer Hines at Jennifer.Hines@TylerISD.org.