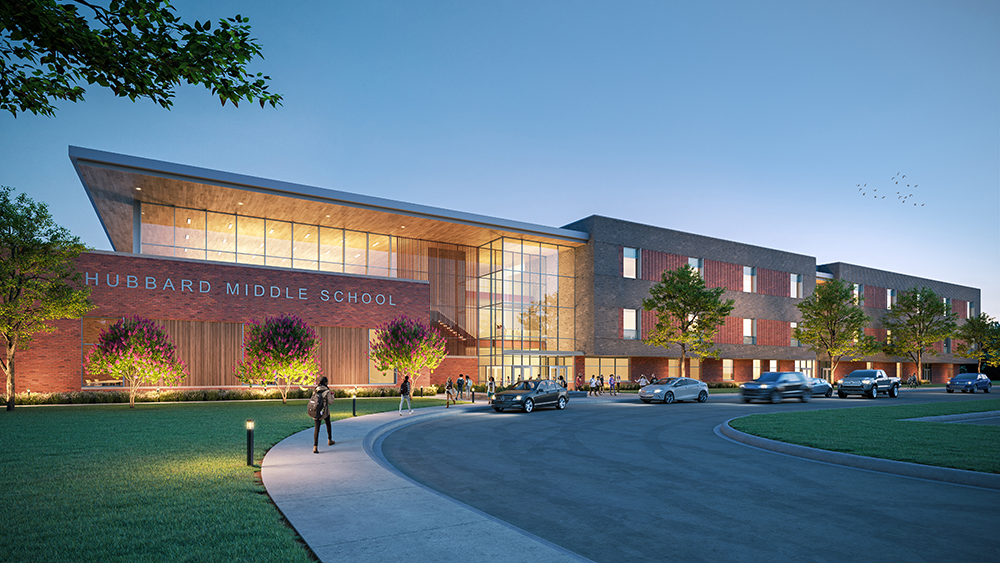 NEW Hubbard Middle School
Replacement of the 55-year-old campus comparable to the 2013 Boulter, Moore, and Three Lakes projects

Located on current site designed to exact specifications as other middle schools

1,200 student capacity

Updated safety and security features

Improved traffic flow and designated parking areas

Meets or exceeds all energy/building codes, ADA, TEA, and UIL requirements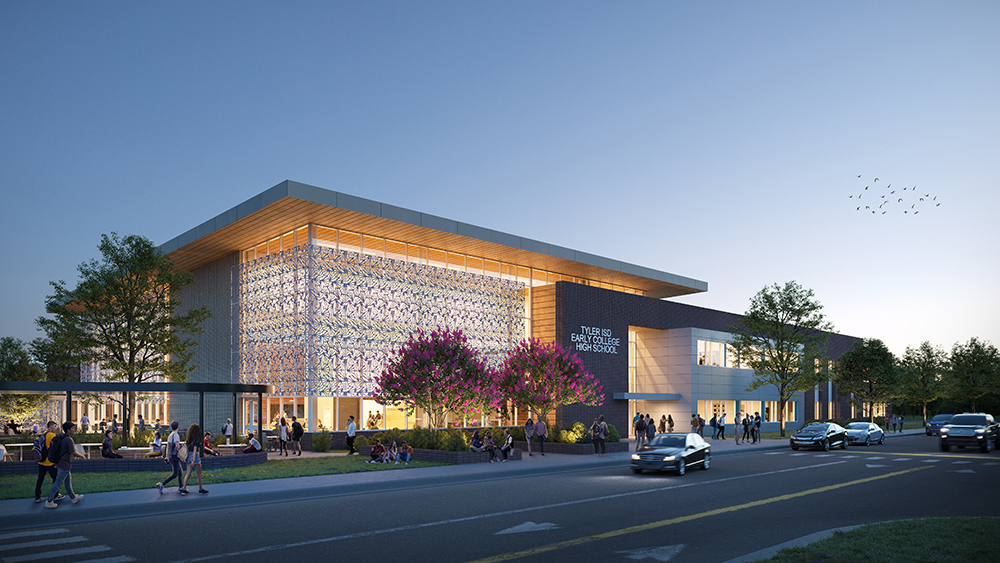 NEW Early College High School
Located next to Tyler ISD Career and Technology Center

650+ student capacity

Cafeteria to be shared with CTC students

Updated safety and security features

Dedicated parking areas

Meets or exceeds all energy/building codes, ADA, and TEA requirements

Campus Renovations and Bond History:
Tyler Independent School District has been able to renovate and rebuild 22 campuses with the passing of 2004, 2008, 2013, and 2017 Bond Programs.
The new campuses contain elements that are energy efficient and have helped the district control utility costs. The buildings feature increased security and safety measures, including enclosed corridors, controlled entrances, and digital video surveillance systems. Technology is in place throughout the schools, including computer stations, high-definition LCD screens, and wireless connectivity.
The 2004 and 2008 bond packages were the first two phases of the District's facilities master plan, with Phase 3 and 4 completed with the 2013 and 2017 bond packages. The 5th phase is currently being presented to voters for consideration. The Phase 5 bond proposal includes the construction of a NEW Hubbard Middle School and a NEW Early College High School.
The last bond referendum passed in 2017. The bond referendum totaled $198,000,000. The 2017 bond package provided for remodeling and additions to Tyler's two flagship high schools. Approximately 5,000 students are in new or renovated spaces.
The high school projects began construction on time, were completed on time, and were completed under budget. The new facilities demonstrated an increase in security and safety measures by providing enclosed corridors, controlled entrances at reception areas, video surveillance cameras, alarm systems, and card access control at all entrance points.
The bond election was called for Saturday, May 7, 2022. All registered voters within the boundaries of Tyler ISD were qualified to vote.
Tyler ISD's current debt tax rate is $0.30 (at the time of the bond election, the rate was $0.335);

Taxes will be used for payment of bonds, but the tax rate will not be increased, estimated based on ad valorem values.
These statements assume that property tax values do not decline.
Qualifying disabled veterans and residents who have an over-65 homestead exemption had their taxes frozen when their exemption was granted (unless improvements or additions are made). Anyone who needs more information about the exemption should call the Smith County Appraisal District at 903.510.8600 and ask for the Exemption Department or go to the appraisal district's website at smithcad.org.
If you'd like to schedule an informative bond presentation for your group/organization, please call the Tyler ISD Communications Office at 903.262.1064. You may also email jennifer.hines@tylerisd.org and questions will be answered promptly.